THE SONG REMAINS THE SAME: Hot shooting propels Bears past Bobcats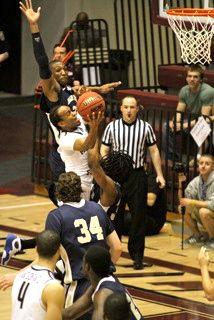 By COLTER NUANEZ
Bobcat Beat
 
MISSOULA, Mont. — Different venue, same story.
 
The last time Northern Colorado played Montana State on Treasure State soil, the Bears shot the lights out in the second half to bury the Bobcats in Bozeman, 85-72. Thursday night here, the song remained the same.
 
Northern Colorado shot 59 percent in the second half and 49 percent for the game to post a 69-56 win over the Bobcats in the first round of the Big Sky Conference men's basketball championship.
 
The Montana State loss brought a tumultuous season to a close for the 13-17 Bobcats. Just three Bobcats played in all 20 Big Sky Conference games. Senior Christian Moon missed the first half of the season with academic ineligibility. Senior guard Jamie Stewart was dismissed from the team following the New Year. Junior Antonio Biglow missed the first half of January because of suspension. Junior center Paul Egwuonwu (concussion), freshman guard Marcus Colbert (back) and freshman forward Danny Robison (mono) all missed time, as did junior forward Flavien Davis when a close family member passed away.
 
Still, the Bobcats managed to wrack up 10 league wins and finish fourth in the regular season standings.
 
"I'm proud of this team. I think we have overcome a lot this year to get to where we're at and to get a four-seed in this tournament," seventh-year head coach Brad Huse said. "Obviously we're disappointed —it stings right now. We'll have a chance to look back and appreciate what we overcame throughout this season to get to this point. It hurts, it really does hurt."
 
Northern Colorado, the tournament's fifth seed, earns the right to face top seed and host Montana in the 7 p.m. semifinal on Friday night.
 
"I'm very happy with the win and I'm very happy with this team because this whole year has been about maturing," UNC head coach B.J. Hill said. "Last year, they were so young and they struggled a lot. This year has been one learning experience after another. The last eight or nine games, they've been playing to the potential our staff thought they could for the last 18 months. Tonight was another huge step."
 
Despite Biglow and Davis each picking up two early fouls, the Bobcats were able to stifle the Bears' attack in the first half. Employing a triangle-and-2 defense, MSU held UNC to 41 percent shooting, including 2-of-7 from beyond the 3-point arc to enter halftime with a 30-28 lead.
 
"For us, we are best when we switch our defenses up," Huse said. "We have to. I thought it kept us in the game in the first half while we had some key guys out. You try to slow down their main weapons, but it's Division I basketball. A lot of guys can score."
 
The unexpected strategy threw UNC through a loop initially, but in the second half, the Bears adjusted behind the silky shooting of Tate Unruh and the opportunistic playmaking of Tim Huskisson.
 
Unruh, a second-team All-Big Sky selection who finished with 21 points on 10 shots, hit a pair of 3-pointers in the first five minutes of the second half to set the tone. Unruh's second triple sparked a run that extended UNC's lead to 48-41 with 12 minutes left.
 
The triangle-and-2 was designed to take away Unruh, all-league forward Derrick Barden and guard Tevin Svihovec. Huskinsson dashed the strategy, slicing his way to 14 points and seven rebounds. He converted five of his last seven field goal attempts.
 
Leading 55-48 with 6:36 left, Huskinsson converted on two straight hoops to stretch the lead to double digits.
 
 "When you are playing a triangle-and-2, you are betting that somebody out there isn't going to beat you. The guy they were betting on from our starting five Tim," Hill said. "For him to play like he did, that's a lot of pressure for a kid who's never played in a Big Sky Championship before. To me, he was the difference."
 
While the Bears now turn their eyes to Montana, Montana State is left wondering what might have been and what will be.
 
(I will remember) just the fun times with my teammates, just pretty much everything off the court," said Moon, who finished with a team-high 15 points in his final collegiate outing. "The basketball is a plus, but being around these guys for two years and some of the new guys this year. That's just the stuff you'll carry with you for the rest of your life."
 
"(It's hard) when you have a senior like Christian Moon that you don't get a chance to see everyday on the floor and it practice and all the team environment stuff you do," Huse said. "We all go through that, I've been doing it for a lot of years and it's always hard, but Christian is a really good player, but a better person."
 
Montana State's roller coaster season ends with uncertainty. Montana State limped to a 2-7 start, then ripped off seven wins in nine games. February saw a five-game losing streak, but the Bobcats won three out of four to climb into the four seed for the postseason.
 
Huse enters the offseason at the end of a three-year contract. It's uncertain if he will be retained. If he is, he'll return most of his nucleus intact.
 
Davis returns after earning honorable mention All-Big Sky honors. Egwuonwu, Biglow and Colbert are return as starters, the former two seniors. Reserve Calen Coleman will be a senior. Robison, center Blake Brumwell and guard Michael Dison each return.
 
"We do have a nice nucleus back, which we're excited about," Huse said. "I think it's a group of guys that now that they have experienced the tournament, they've been a part of that. These guys, they'll remember this for a long time. Unfortunately we lost, but on the solid side of things, we have a lot of guys back who played big roles for us. I know they will use this as motivation moving forward. You have to take steps that way. For this group of guys, they've overcome, they've proven that before. They'll be ready to go when we get ready to roll next season. I feel good about it."
 
Colter Nuanez can be reached at BobcatBeat56@gmail.com and followed on Twitter @Bobcat_Beat. Photo courtesy of Blake Hempstead. 
 
 
Categories: