UNSTOPPABLE SURGE: Huge Eastern Washington run propels Eagles past Bobcats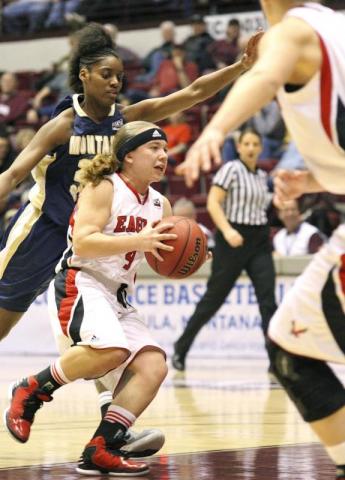 By COLTER NUANEZ
Bobcat Beat
 
MISSOULA — The downward spiral is complete.
 
The Montana State women's basketball team charged to an 8-1 start in conference play and sat atop the league standings following a 58-49 win over eventual league champion Montana here in January.
 
Wednesday, the sixth-seeded Bobcats couldn't wrangle the fast-breaking Eagles of Eastern Washington in the first round of the Big Sky Conference tournament. Thanks in part to a 21-2 run, EWU won 68-53 going away.
 
The loss was the ninth in 13 outings for Montana State, which finished the season 17-14. Montana State was 3-7 during the second half of conference play to enter the tournament as the six seed.
 
Third-seeded Eastern moves on to Friday's 11 a.m. semifinal against second-seeded Northern Colorado, a 67-56 winner over Southern Utah on Wednesday.
 
A pair of Ashley Brumwell buckets following intermission gave Montana State a brief 29-26 lead. Then Kylie Huerta and the Eagles decided to get out in the open court. Following the 21-2 spurt, the contest was all but over.
 
"All I remember is taking about four timeouts in that second half stretch," Montana State head coach Tricia Binford said. "We did talk about that there was a lot of time left on the clock. We just needed to get our mentality back. I thought we lost the mentality of our team very early in the second half with a lot of time on the clock."
 
Huerta, EWU's mighty mite point guard, ignited the elongated EWU run. The 5-foot-1 sophomore had four of her game-high nine assists and three of her game-high six steals during the burst. Two of her assists found Hayley Hodgins for 3-pointers and two more of her dimes found Lexi Nelson for triples.
 
"We really got out and ran in the second half and I felt like I was just finding a lot of my shooters like Lexi and Hayley just spotting up," said Huerta, who scored 12 points. "I think it really did start defensively, getting steals, getting blocks. We just got out and ran."
 
Nelson (18), Laura Hughes (13) and Ashley Ashenfelter (12) joined Hodgins (11) and Huerta in double figure scoring. EWU had 13 assists and forced 19 MSU turnovers, two stats heavily influenced by the Eagles' diminutive point guard.
 
"(Huerta) is a very skilled player," Brumwell said. "She can get you out of your defensive stance and then blow by you. Where she is really effective is finding her shooters out on the perimeter because she might beat you and you're still kind of in the play and she'll find someone wide open for a 3-pointer. That's how they got a lot of their 3s in the second half. I think we were just helping a little too much on her penetration and that's how the shooters were able to get some open looks.
 
By the time Ashley Ashenfelter hit a bucket with 12:31 left, the EWU advantage was 47-31. The Bobcats cut it to 11 twice — 59-48 and 61-50 — but the cold-shooting 'Cats couldn't keep pace.
 
Montana State shot 36 percent from the field, including 2-of-14 (14 percent) from downtown, mirroring a trend that plagued Montana State the entire second half of the season. MSU finished the season 95-of-407 (23.3 percent) from beyond the arc, the lowest mark in the 11-team Big Sky Conference.
 
With the Bobcats not able to buy a jump shot, the Eagles were able to double and sometimes triple-team MSU's three-time All-Big Sky center, senior Rachel Semansky. EWU limited Semansky to eight points and five rebounds on just six shot attempts.
 
"For Rachel to be a factor, we have to be able to move off Rachel — we need to move the ball quicker," Binford said. "We could have done a better job of attacking from the baseline side. We have been facing this all season long, so it's not something new for us."
 
Nelson, a Butte native who played as a freshman for Montana two seasons ago, was non-descript about returning to the Adams Center with a game-high scoring performance.
 
"Any time you get the opportunity to play in the Big Sky Conference tournament, it's always fun," Nelson said when asked of her return to the Garden City. "We are glad we got the first win, but we are not satisfied with that. We will enjoy it tonight and then get ready for Friday."
 
While EWU looks forward to a day off before preparing for UNC on Friday, the Bobcats' season is finished.
 
Wednesday, Semansky and senior guard Latisha Adams (four points, two assists) wrapped up their Bobcat careers. Semansky, a Highwood product and two-time Academic All-America selection, finished her career in Blue and Gold as the second player in program history with 1,000 points and 750 rebounds.
 
"Being able to play at Montana State is a huge blessing," Semansky said as tears streamed down her face. "I've grown so much and been challenged to become a better player. I love this sport. To be able to play it at my dream school with great coaches and great players, it's been a dream come true. It's been the time of my life. I just thank God for the opportunity to play here. It's been a huge blessing."
 
Colter Nuanez can be reached at BobcatBeat56@gmail.com and followed on Twitter @Bobcat_Beat. Photo courtesy of Blake Hempstead.
 
Categories: