FAMILIAR FEELING: Binford says Bobcats enter Big Sky tournament with reminiscent feel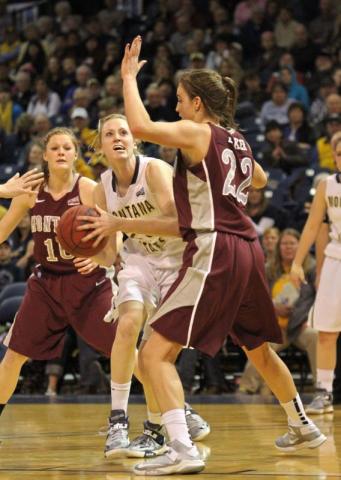 By COLTER NUANEZ
Bobcat Beat
 
It's been a roller coaster of a season for the Montana State women's basketball team, but Tricia Binford feels like she's been down this road before.
 
Montana State's eighth-year head coach has led her team to seven consecutive Big Sky Conference tournament appearances. A high seed hasn't always meant a high finish. In 2010, the last time the squad made it to the tournament title game, Binford's charges finished 9-7 in league play and earned the six seed.
 
This year's version of the Bobcats are similar. Like the 2010 team led by seniors Erica Perry and Jamie Thornton along with juniors Sarah (Strand) Balian and Lyndi Seidensticker, this year's Bobcats have two seniors — guard Latisha Adams and forward Rachel Semansky. Like that squad, this team has seen its ups and downs. Montana State surged to an 8-1 conference start that included a 58-49 win over eventual regular-season champion and this week's tournament host, Lady Griz of Montana. But MSU faltered down the stretch, finishing league play with an 11-9 mark to enter the tournament with an identical seed as the last championship game participant.
 
Like 2010, Binford thinks this winter's version can make a run into the spring.
 
"This season reminds me of the last time we made it to the championship game," said Binford, who boosted her all-time MSU-best win total to 120 wins this winter. "That year with Erica Perry and Sarah Balian, we were the sixth seed. Everybody had beaten everybody. When we lace up those shoes, everyone believes they have a shot to win it."
 
Montana State might have had an inconsistent campaign but the Bobcats have proven they can play with the best. MSU split the season series with Montana, No. 2 seed Northern Colorado and No. 3 seed Eastern Washington, MSU's opening round opponent (5:30 p.m., Wednesday). Montana State downed EWU 73-60 in Cheney, but lost to the Eagles 68-59 in Bozeman.
 
"At this point, it doesn't matter who you open up with. You have one game you have to focus on if you want to continue to play," Binford said. "Everyone has a new hop in their step right now. It's like you have your second wind for the season. That's exciting and it's what everyone prepares for since the beginning of the year."
 
MSU has posted a win in two of its previous three times playing at UM's Adams Center. It 's a preseason goal of each team in the league to host the seven-team tournament, but if the action can't be in Bozeman, Missoula is MSU's second-best option.
 
"I love the atmosphere (in Missoula)," Montana State junior forward Ashley Brumwell, a Hamilton native, said. "It's a great facility and I think we will have some good fan support there. I think our team is really excited about the opportunity to play in Montana. It's not home, but I think this would be a close second for most of us. I think we are pretty excited about being able to play in Missoula."
 
"I definitely know our team wanted to play there rather than heading over to Greeley, (Colorado)," Binford said. "From a travel perspective, it's a lot simpler. We didn't have any flights out of Bozeman and our kids have had some success there."
 
Brumwell will be among the veterans expected to set the pace for the youthful Bobcats. Montana State welcomed six new players — five true freshmen and junior college transfer Rechel Carter — to the active roster at the beginning of the season. Only Brumwell, Semansky, Adams and junior center Chelsea Banis have played in more than one Big Sky postseason tournament.
 
"It's not a concern but it's one of those situations where it is an unknown," Binford said. "Rotations, you have to kind of adapt to. It's like Montana on the road the first time we experienced that game. We do have a lot of seasoned players that have been in this experiences and those are the main and key kids that are going to have to be solid for us."
 
Montana State is at its best when it dictates the pace of a game with pressuring defense. The Bobcats finished second in the league in steals per game (11.0) and Montana State averaged 12 thefts per game in league wins.
 
Eastern counters with the league's most efficient shooting offense — EWU leads the league in field goal percentage (40.9 percent) and 3-point percentage (35.4 percent). Butte native Lexi Nelson leads the team and finished fourth in the league by averaging 14.3 points per game.
 
"We definitely feel like we are going to be in this game and come in and play the defense we are known to be playing," Binford said. "For me, that's been a big difference in these stretches where we've played solid. We've dictated the defense and the offense has followed suit. That's where we need to start on Wednesday."
 
Montana State simply can't afford to stray from its formula for success, or the 'Cats' season is finished.
 
"It's definitely a different mindset because every game is so much more important," Brumwell said. "The conference, you talk about each game being important, but this is what it all comes down to. Everyone gets really amped. We have to realize that we have to leave it all on the court on Wednesday because we don't know if we are going to be coming back again."
 
Colter Nuanez can be reached at BobcatBeat56@gmail.com and followed on Twitter @Bobcat_Beat. Photo courtesy of Blake Hempstead. 
Categories: