OVER THE MOON: Montana State senior shines during final home game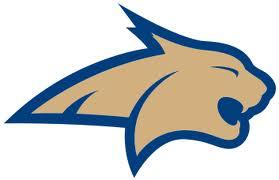 By COLTER NUANEZ
Bobcat Beat
 
Mother's Day is still a few months away, but Sarah Moon got one of her presents a little early.
 
With his mother visiting Montana for the first time, Christian Moon decided to put on a show.
 
The lone senior starter during the final basketball game this winter at Brick Breeden Fieldhouse didn't disappoint. Moon hit 7 four 3-pointers in scoring a game-high 23 points to lead his Montana State Bobcats to a 71-55 win over Sacramento State on Senior Day.
 
Moon, a native of Inkster, Mich., (a suburb of Detroit), spent two seasons at Henry Ford Community College before transferring to Montana State before last season. He lived with Sarah until he moved to Bozeman and she attended all of Christian's games she could.
 
"I wanted to treat it like a normal game even though I knew it was my last home game and my mom was watching me," Moon said with a smile. "I wanted to go out with a good game. We were still playing for a good seed in the playoffs too, which was motivation to go out and get this W today.
 
"It was awesome for her to finally see me at Montana State live. For her to see my last three games at home, live, it means a lot to me."
 
The victory was the 10th Big Sky Conference victory of the season for the Bobcats. MSU (13-16) tied with Northern Colorado for fourth place in the final league standings. MSU and UNC split during the regular season, with the 'Cats winning 69-66 in Greeley and the Bears winning 85-72 in Bozeman. Montana State will be the fourth seed in next week's Big Sky Tournament due to a 79-74 win over second-place Weber State.
 
"We finished strong, winning three of our last four," Montana State head coach Brad Huse said. "To get the seed we got…it's kind of been one of those years where we have to keep responding to challenges and adversity. To our guys' credit, they keep doing it. It's them. They are the ones stepping up.
 
"Guys really played hard today and I think they played hard for Christian and Xavier (Blount). It meant a lot to them to get a win here on Senior Night and if I'm not mistaken, we secure fourth with that win. That's a pretty solid finish for us."
 
Blount, a starter the past two seasons for the Bobcats, missed Senior Day with a stress fracture in his right foot. The injury will likely cost him the rest of his senior season.
 
MSU's win also means the Montana Grizzlies will host the tournament for a second straight season. Montana State will play UNC in the third of three games on Thursday at Dahlberg Arena in Missoula. Tipoff will be at 8 p.m.
 
"(The late surge) goes back to practice, really," MSU junior Flavien Davis said after scoring 14 points and dishing out four assists. "We tried in practice to go through everything game-like. Even in warm-ups, it was game-like. All year, Coach Huse has been saying 'It's going to pay off.' Eventually, it's paying off now. The best thing about it is we have a little momentum going into tournament time."
 
Moon led a display of offensive efficiency by the Bobcats. MSU shot 49 percent from the floor, including drilling 9-of-21 3-point shots (43 percent). Moon hit four triples in eight attempts. Junior guard Antonio Biglow hit 3-of-4 from downtown.
 
Montana State notched 16 assists against nine turnovers. Biglow (13) and junior center Paul Egwuonwu (11) joined Moon and Davis in double-figure scoring. Egwuonwu also had nine rebounds, missing his second straight double-double by a single board.
 
"Guys are playing for each other and it's always when we are at our best," Huse said. "Sharing it, not taking average shots. The thing I thought was good was we didn't lose our composure, we maintained our poise and we stayed competitive."
 
Montana State hit 14-of-24 shots, including 5-of-11 3-pointers, to enter halftime with a 39-28 lead. Sac State wasted no time rallying back after intermission.
 
A one-handed by former Bobcat Jordan Salley — Salley committed to MSU out of Santa Rosa Junior College in 2010 before being ruled ineligible and landing at Sac — gave Sac a 43-42 lead five minutes, 44 seconds into the second half.
 
John Dickson, who finished with 13 points and seven rebounds, hit a bucket with 9:07 to play to knot the action at 49-49. From there, Montana State outscored the Hornets 22-6. The finishing stretch saw Sac miss its last eight 3-pointers in shooting just 34 percent from the floor on the afternoon.
 
"Today, during the pregame speech, (Huse) told us teams are shooting 49 percent against us. That's too much. It is," Davis said. "We just had to look at ourselves and say 'When is it going to stop?' We are going to dig ourselves and even deeper grave if we allow everyone to shoot and run all over us. We just had to come out and make stops."
 
Moon hit his fourth triple to give MSU a 56-49 lead with 3:47 left, then hit 3-of-4 free throws in the final minute to seal the win.
 
"It was a great performance on the floor, but this speaks to the person Christian is. Every day, he is so consistent in the way he approaches things," Huse said. "He's a great teammate. Guys like playing with him and for him. He's had a great senior year and there's no better way to finish up like he did tonight and it's extra special his mom was here to see it."
 
Colter Nuanez can be reached at BobcatBeat56@gmail.com and followed on Twitter @Bobat_Beat.
 
 
Categories: