ONE WIN AWAY: Bobcat men inch closer to Big Sky Tournament bid with OT win over NAU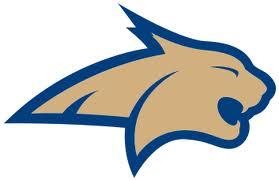 By COLTER NUANEZ
Bobcat Beat
 
As Gabe Rogers swished triple after triple, the Montana State Bobcats saw their season flash before their eyes.
Northern Arizona's sharp-shooting senior, the Big Sky Conference's leading scorer, was in the midst of an unconscious second half. When Rogers hit his seventh 3-pointer of the evening and his fourth of the second stanza with one minute, 11 seconds left in regulation, NAU's comeback was complete. Rogers' 16 second-half points gave the Lumberjacks a 71-70 lead with 71 seconds left.
 
Then Antonio Biglow and the Bobcats buckled down.
 
Biglow had a key closeout that led to a Christian Moon 3-pointer to help the game go to overtime tied at 73. In overtime, the Montana State junior guard had a crucial steal — one of a game-high seven swipes —  that he turned into a layup, among four of his overtime points and the Bobcats held the previously red-hot 'Jacks to 1-of-8 shooting in the extra frame to escape with an 83-79 victory.
 
"It's five minutes and that's the most important five minutes of our season and our careers for some of these guys," said Biglow, who finished with a career-high 27 points. "This is the season. We had to sit down and play defense (in overtime).
 
"When there's pressure, we never bust. It was good we was under pressure and we had nothing to lose. We were going to go down swinging. We just connected on the big punches tonight."
 
The victory moves Montana State one step closer to sewing up a Big Sky Conference tournament berth. Montana (18-1), Weber State (17-2), North Dakota (11-8) and Northern Colorado (10-10) have all sewed up bids to the seven-team dance. Montana State (12-16) moved to 9-10 in Big Sky play, alone in fourth place, a game ahead of NAU, Sac State and Southern Utah, all losers on Thursday and all 8-11 in league play.
 
If Montana State beats Sac on Saturday, the Bobcats are in. If MSU falls, but UM downs NAU, the Griz will host and the Bobcats will participate. The lone scenario in which Montana State would miss the tournament would be if NAU beats the Griz, Southern Utah beats North Dakota and Montana State loses to Sac in its season finale. A Southern Utah loss would assure the Bobcats a berth regardless of Saturday's results.
 
"I think we use this win as momentum, honestly," said MSU junior center Paul Egwuonwu  after posting a 19-point, 12-rebound double-double. "We just have to keep riding this momentum."
 
Montana State played arguably its best first half of the season in building a 47-35 lead. The Bobcats shot 60 percent and committed just three turnovers.
 
"We just moved the ball," Biglow said. "Coach (Brad) Huse always says when we move the ball, we are the most effective. We came out with that mindset."
 
It all started with Egwuonwu. The 6-foot-9 smooth center hit three baseline jumpers to open up NAU's zone for penetration by Biglow and junior forward Flavien Davis.
 
"I'm my toughest critic so I wasn't pleased with my performance against Montana and same thing with the last time we played (NAU), so my mindset was to come out the aggressor and make plays for my team," Egwuonwu said.
 
Following halftime, Rogers, who entered the action averaging 17.9 points per game, caught fire. The 6-foot-2 senior rained a barrage of 3-pointers upon MSU's zone, including an impossibly tough fall-away to give NAU a 71-69 lead with 2:04 to play.
 
"That dude Rogers, he's like a 2K player (video game), he's 99 percent from the 3-point line," Biglow said. "I played against him before in AAU, and I knew he could shoot, but when you get to college, you get developed even more. He's a Ray Allen-type shooter now. When he started hitting, he was taking one-step, fall-backs, he makes shots like that."
 
"He made him take tougher shots, but still to him, those are still good looks. Anything from NBA (range) in, those are good looks for him."
 
Biglow used a hard closeout on Rogers' dagger attempt with 53 seconds left, then dished out his third assist of the night on the ensuing possession, leading to a go-ahead Christian Moon 3-pointer to give MSU a 73-71 lead with 29 seconds left. Rogers hit two free throws with 18.3 seconds left.
 
Moon finished with 11 points. Davis had 18 points and nine rebounds.
 
Biglow had a chance to end the game at regulation. Egwuonwu set a ball screen at the top of the key for the slippery point guard with five seconds left. Biglow got a decent look form 15 feet, but the jumper was short.
 
"You knew they had run in them and obviously they can shoot the ball," MSU head coach Brad Huse said. "We struggled to slow them down that second half. We didn't panic. I was pleased with how we played in overtime, especially since we missed a shot to go into overtime. That can be a momentum killer, but we didn't let it effect us.
 
"That's been our message is to move on to the next thing. Let's not sit around and dwell. You can't expect anything to be easy. Now we have another huge one on Saturday."
 
Colter Nuanez can be reached at BobcatBeat56@gmail.com and followed on Twitter @Bobcat_Beat.
 
 
 
Categories: