PLAYOFF PUSH: Montana State men have postseason mindset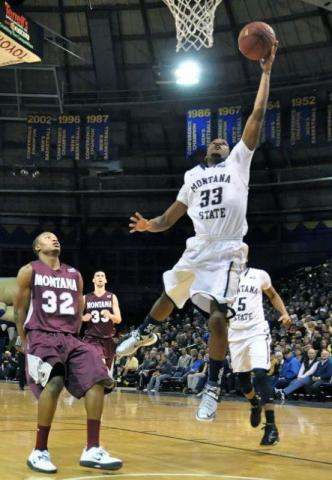 By COLTER NUANEZ
Bobcat Beat
 
The schedule indicates the Big Sky Conference Tournament does not begin until next weekend, but for the Montana State Bobcats, the playoffs start right now.
 
MSU hosts a pair of crucial Big Sky games this weekend beginning tonight at Brick Breeden Fieldhouse. The Bobcats sit in a four-way tie with Sacramento State, Southern Utah and tonight's opponent, Northern Arizona, at 8-10 in Big Sky play. The foursome is a half-game behind fourth-place Northern Colorado.
 
The top seven teams in the 11-team Big Sky make the conference tournament. By the time the dust settles — MSU plays Sac State on Saturday — one of the four 8-10 squads will be on the outside looking in.
 
"Our postseason has begun," MSU head coach Brad Huse said. "This is what it's about. These games are our season. We can't deny that, we don't want to manipulate that. We just have to lay it out there. It's exciting. It's what you play for. A lot of teams are out of contention, out of the hunt at all levels around the country. The be in position to still get something positive done and get to the postseason is what you are fighting for."
 
First up is a Lumberjacks squad that ranks last in the league in scoring defense (75.2 points per game allowed). Since opening up conference play in December with an 87-80 win in Flagstaff over MSU, the 'Jacks have put together back-to-back victories just twice. Most recently, NAU had a chance for a second straight win on the heels of downing Idaho State, but the Lumberjacks couldn't hold on against Weber State. NAU lost 80-78 in overtime to the second-place Wildcats.
 
Tipoff tonight will be at 8 p.m. to accommodate the Montana Class C State Boys' hoops tournament taking place the next three days at the Brick.
 
"Nothing has changed from a personnel standpoint and they appear to be doing mostly the same things," Huse said. "You come through the cycle of the conference season and the two teams we are playing have the same record as we do. It's kind of wild."
 
Although MSU and NAU have identical conference records with two to play, the Bobcats climbed to eight wins in a much different fashion. After an 0-2 start that also included a 62-57 loss at Sac State, MSU reeled off seven wins in nine outings. Since a 61-59 overtime win over Idaho State in Bozeman, the Bobcats have lost seven of nine games.
 
Montana State must put its recent skid in the rearview mirror, senior Christian Moon said.
 
"The difference between winning and losing is right now you don't have any time to get back on track," said Moon, who is averaging a team-best 13.5 points per game this season. "With these two games, you have to win now. You can lose early in the conference and say we have these games coming up. Now it's just two games and you have to get the Ws."
 
"We have (a playoff) mindset and it started with the Southern Utah game (a 62-61 win). We knew we wanted to get the sweep on Southern Utah. These games right now, it's about playing into the playoffs."
 
Huse's squad has had a roller coaster winter, but the head coach is confident in his team's ability to rise to the occasion this weekend.
 
"We've got guys who don't mind pressure, so as long as we stay true to team and not thrive on our direction or status, we are fine," Huse said. "This group, they aren't afraid to take on a challenge. They seem to flourish at it's best when they are in the position to take on a challenge and there's something at stake. We all realize what's at stake now."
 
Saturday's afternoon game — tipoff is at 2:30 p.m. — will mark the last home game for Moon and classmate Xavier Blount.
 
"Plain and simple, we just have to win," Moon said. "It's pressure, but it's not bad pressure. It's good pressure. This is what we play for right here, to get into the postseason in March. This adds some fuel to the fire for us to get it done."
 
"It's going to be a heavyweight bout these next two games and we just have to go blow for blow and hopefully we will come out on top."
 
Colter Nuanez can be reached at BobcatBeat56@gmail.com and followed on Twitter @Bobcat_Beat. Photo courtesy of Jeff Krogstad Photography. 
 
 
Categories: