CHASING MEDALS: Mohl heads to nationals with record-setting aspirations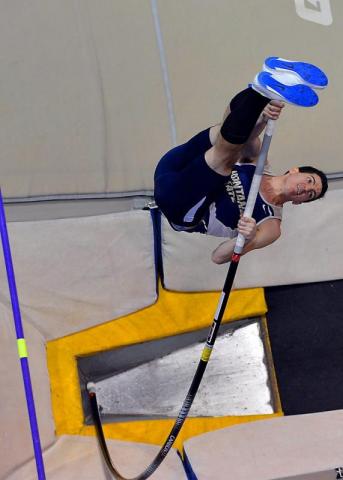 By COLTER NUANEZ
Bobcat Beat
 
It's all outdoors from here for Jeff Mohl.
 
The Montana State multi-event virtuoso hits the track for the last indoor meet of his decorated career on Friday. The NCAA Men's Indoor Track and Field Division I Championship in Fayetteville, Arkansas will give Mohl one more chance to break the MSU and Big Sky Conference record point totals in the heptathlon.
 
Mohl is chasing more than records or All-America status. He's chasing a medal.
 
"First-team All-America, that's like the lowest goal, honestly," Mohl said. "I think I can finish top five or even top three with a good score."
 
Mohl begins his national meet quest on Friday morning at 10 a.m. Central. The 16 qualifying athletes will compete in four events on Friday, then three more beginning at 11 a.m. on Saturday.
 
"Jeff is a guy who rises to the occasion," Montana State head coach Dale Kennedy said. "When you look at his career, that's really the case. When it's a big meet, a championship meet, he tends to come to the top. He's a kid who is real steady. I keep jokingly saying I think he has ice water in his veins. He never gets over excited or anxious. He seems to be able to come up big time."
 
Mohl is the reigning Big Sky champion in the heptathlon after sewing up his first indoor title in Bozeman last month. He's also the reigning league champ in the decathlon, a title he claimed during last year's outdoor championships in Bozeman.
 
Mohl's personal-best score of 5,725 points, set at the BSC Indoor Championships, was just six points away from former MSU standout Asa Staven's league record set last winter. The score is the 11th-best among the qualifying field.
 
Washington senior Jeremy Taiwo (6,156), Wisconsin junior Japeth Cato (6,090) and Arkansas junior Kevin Lazas (6,042) have all broken 6,000 points and will be the favorites. Mohl has already secured All-America honors as the second eight finishers are second-team All-America selections. He's just 31 points behind eight-place Romain Martin of Texas-Arlington.
 
"When you get out there, anything can happen," Kennedy said. "The kid that is leading, he's at 6,156 and I don't think anyone can catch him unless he no-heights or something, but that can happen. You know it can happen. There's seven different things that can happen. It's not over till it's over. He has a chance. He's in there, we are excited about it. Anything can happen."
 
If Mohl can put together marks close to his personal bests in all seven events, the school and league records will certainly be his. At the Big Sky meet, he piled up a big score despite missing his high jump PR (6-foot-9) by almost an inch and a half and leaving a few 10ths of a second on the track in the 55 meters and the 55-meter hurdles.
 
"I need to get a few more points in high jump and vault and I have a lot of points I'm leaving on the table in the sprints," Mohl said. "I could easily pick up 80 points between the two sprints if I can have a good race."
 
Mohl's 23-foot-2 long jump and his 16-foot-4.5 pole vault were multi-event personal-bests, as was his shot put throw of 40-foot-2. Kennedy said the circle might be where he makes up ground once again.
 
"If he picks up another 20 or 30 points in the shot put, and I think that's there for the taking…he can go better than 40 feet," Kennedy said. "If he can get to 41 (feet), we just picked up 30 more points and there he is. If he does what he does in the other events, he's in the top eight."
 
"It's consistency. If he can go in and do what he's done all season in every event, the guy is going to be first-team All-American."
 
Mohl will be the lone Bobcat on the indoor national stage. Senior distance aficionado Heather Haug and senior throwing standout David Phillips had championship aspirations, but neither cracked the top 16 national marks.
 
"I had hoped so much we'd have more than Jeff go," Kennedy said. "But when we entered into that last weekend, the reality of it was that Mohl was the one that was going to get in and everyone else was outside."
 
The national meet is not the last time competing in Blue and Gold for Mohl, but he won't hit the track for quite some time following this weekend. The Red Lodge native will redshirt during the upcoming outdoor season and return for his final season of eligibility next spring.
 
With a year off staring him in the face, Mohl can't wait to hit the national stage and chase a medal.
 
"I'm really excited," he said. "It's going to be really competitive this year. When I went in last year, I was just trying to get a good score. This year, I'm really trying to compete with these guys. I like my chances."
 
Colter Nuanez can be reached at BobcatBeat56@gmail.com and followed on Twitter @Bobcat_Beat. Photo by Dean Hendrickson, Montana State athletics. 
Categories: